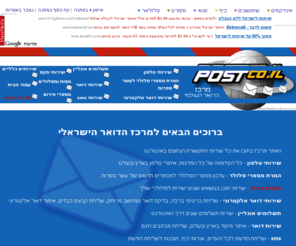 Post.co.il - רשות דואר ישראל איתור כתובת טלפון סניפי דואר שליחים מנועי חיפוש מספרי טלפון סלולרי. Post.co.il - postoffice mail lists phone mailbox post card printer fax mail phones.
Description:
אתר דואר ישראל ובו ניתן לבצע המרת מספרי טלפון, איתור כתובת לפי מספר טלפון, חיפוש כתובת, איתור סניפי דואר, איתור מספר טלפון סלולרי, זיהוי מספרי טלפון ועוד. The postoffice site with telephone directory, fax mail, international mail, direct mail postcards, cell phones numbers, mail sorter and more.
Keywords:
אתר דואר ישראל, מספרי פלאפון, חיפוש כתובות, חיפוש טלפון, איתור כתובת לפי מספר טלפון, מנועי חיפוש, רשות הדאר, איתור מספר טלפון סלולרי, חיפוש כתובת. Telephones, mailbox post, cell phones, Mail, bulk mail server, mail list, videopost, post card printer, fax mail, webmail, telephone directory.
Tags:
post
,
באינטרנט
,
שיווק
,
דואר
,
טלפון
,
מספרי
,
mail
,
שירותי
,
sms
,
phone
,
איתור
,
חיפוש
,
כתובת
,
phones
,
fax
,
סלולרי
,
ישראל
,
mobile
,
stocks
,
weather
,
rates
,
sport
,
exchange
,
news
,
printer
,
card
,
רשות
,
מנועי
,
mailbox
,
postoffice
,
סניפי
,
המרת
,
חירום
,
מפות
,
ספורט
,
פקס
,
תשלומים
,
אלקטרוני
,
שליחים
,
lists
,
Post.co.il
Content Revalency: Title: 20.83% Description: 14.29% Keywords: 15.62% | Document size: 38,376 bytes
More info:
Whois
-
Trace Route
-
RBL Check
POST.CO.IL - Site Location
Country/Flag
Israel
City/Region/Zip Code
, ,
Organization
012 Smile Communications
Internet Service Provider
012 Smile
Site Response Header
Response
HTTP/1.1 200 OK
Server
Apache/2.2.9 (Debian) DAV/2 SVN/1.5.1 PHP/5.2.5-2 with Suhosin-Patch mod_ssl/2.2.9 OpenSSL/0.9.8g
Date
Fri, 15 Apr 2011 22:44:50 GMT
Content-Type
text/html