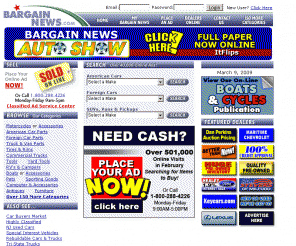 Bargain News - Connecticut Used Cars for Sale and CT Classified Ads
Description:
Used cars and classified ads from Connecticut and CT surrounding area from the Bargain News. View used cars, trucks, vans, suvs and motorcycles as well as used furniture, tools, antiques, pets, and more from dealers and private sellers.
Keywords:
used car, used cars, used cars in ct, used cars connecticut, ct used cars, Bargain News, bargainnews.com, ct, Connecticut, ad, ads, classified, classifieds, classified ad, classified ads, car, cars, used, used car for sale in ct, used cars from dealers, truck, trucks, used truck, used trucks, motorcycles, cycles, used cycles, tools, used tools, furniture, used furniture, used cars in Bridgeport, used cars in Norwalk, used cars in Stamford, used cars in Milford, used cars in new haven, used cars in Hartford, used cars in Danbury, used cars in Waterbury, used cars in Torrington, used cars in Manchester, used cars in milford, buy, sell, place an ad, advertise.
Tags:
com
,
bargainnews
,
used
,
cars
,
classified
,
bargain
,
news
,
connecticut
,
ads
,
car
,
sale
,
trucks
,
parts
,
tools
,
accessories
,
furniture
,
from
,
motorcycles
,
pets
,
antiques
,
more
,
select
,
american
,
foreign
,
categories
,
truck
,
dealers
,
boats
,
commercial
,
campers
,
yard
,
rims
,
van
,
center
,
tires
,
rebuildable
,
tri
,
service
,
state
,
other
,
Bargainnews.com
Content Revalency: Title: 0.00% Description: 0.00% Keywords: 0.00% | Document size: 24,764 bytes
Alexa rank:
#125,267
Quantcast rank:
#25,596
More info:
Whois
-
Trace Route
-
RBL Check
BARGAINNEWS.COM - Site Location
Country/Flag
United States
City/Region/Zip Code
Washington, VA, 22747
Organization
Microsoft Azure
Internet Service Provider
Microsoft Corporation
BARGAINNEWS.COM - Domain Information
Domain
BARGAINNEWS.COM [ Traceroute RBL/DNSBL lookup ]
Registrar
NETWORK SOLUTIONS, LLC. NETWORK SOLUTIONS, LLC.
Registrar URL
http://networksolutions.com
Whois server
whois.networksolutions.com
Created
26-Dec-1995
Updated
14-Oct-2015
Expires
25-Dec-2017
Time Left
0 days 0 hours 0 minutes
Status
clientTransferProhibited https://icann.org/epp#clientTransferProhibited
DNS servers
NS-1515.AWSDNS-61.ORG 205.251.197.235
NS-1544.AWSDNS-01.CO.UK 205.251.198.8
NS-229.AWSDNS-28.COM 205.251.192.229
NS-853.AWSDNS-42.NET 205.251.195.85

Site Response Header
Response
HTTP/1.1 200 OK
Server
Microsoft-IIS/6.0
Date
Sun, 14 Jun 2009 13:14:38 GMT
Content-Type
text/html; charset=UTF-8
Cookie
CFGLOBALS=urltoken%3DCFID%23%3D8635855%26CFTOKEN%23%3D38719986%23lastvisit%3D%7Bts%20%272009%2D06%2D14%2009%3A14%3A38%27%7D%23timecreated%3D%7Bts%20%272009%2D06%2D14%2009%3A14%3A38%27%7D%23hitcount%3D2%23cftoken%3D38719986%23cfid%3D8635855%23;domain=.bargainnews.com;expires=Tue, 07-Jun-2039 13:14:38 GMT;path=/